[ad_1]
Earlier this month, the always smiling and stylish Sweeya Santipitaks ended not only her post in Calcutta, but her three-decade diplomatic career as well. The Consul General of the Royal Thai Consulate, whose father held the same post 38 years ago, shares her farewell thoughts with t2 at her residence in Alipore.
You were lucky enough to see Calcutta for a year and a half before the lockdown.
Yes. I came in the winter of 2018 and there were a lot of invitations. I enjoyed the cultural programs. The people of Calcutta are so friendly.
How did your life change afterwards?
Like everyone else, I had to learn to spend more time at home without worrying. I could adapt. It got easier after a month. We have organized several online events, including the Thai Festival 2021.
Did you choose any hobbies during the months of confinement?
I learned about hydroponics. It is the art of gardening without using soil, only in water. It is also popular in India, but the liquid fertilizer is a bit expensive. I had seeds from Thailand and grew them, taking advice on YouTube and asking vendors. But they didn't grow as fast as the advertisements claimed.
This is what I plan to learn to do after retirement. This is the Thai version of the artificial clay banana leaf paan. It is easy to mold. We call it the art of Thai clay. It's a good hobby. Those who do it well sell it too. There are web pages where people learn from each other and also post photos of their creations.
Source by telegraph
Was it a success?
Well … (pause) Some have survived! The ground here is sticky which is different from Thailand. Sticky soil is good for tall trees, however. I also tried to meditate but without much success. I would fall asleep. (Laughs)
Now that the restaurants have reopened, how authentic is the Thai food served in Kolkata in your opinion?
In any location, food should be adjusted according to local preferences. Maybe it has lost some of its authenticity. But if you ask for authentic cuisine, the restaurant chef will surely serve it for you. What I have found is that sometimes Thai food in Kolkata is a bit saltier than it should be. In Thai cooking, we use fish salt, which is a diluted version of salt and therefore does not have the pronounced salty taste. It also elevates the taste. Vegetarians, who cannot use fish salt, can use light soy sauce as an equivalent.
Our Department of Commerce issues Thai Select certificate to authentic Thai restaurants overseas. Baan Thai in Oberoi Grand received the first one in Calcutta last July, which we handed over, together with the Thai Trade Center in Delhi.
Due to the price, Thai cuisine is not easily accessible for ordinary people. You don't have Thai fast food in malls. I would love to see a Thai food franchise in every mall in Kolkata at an affordable price.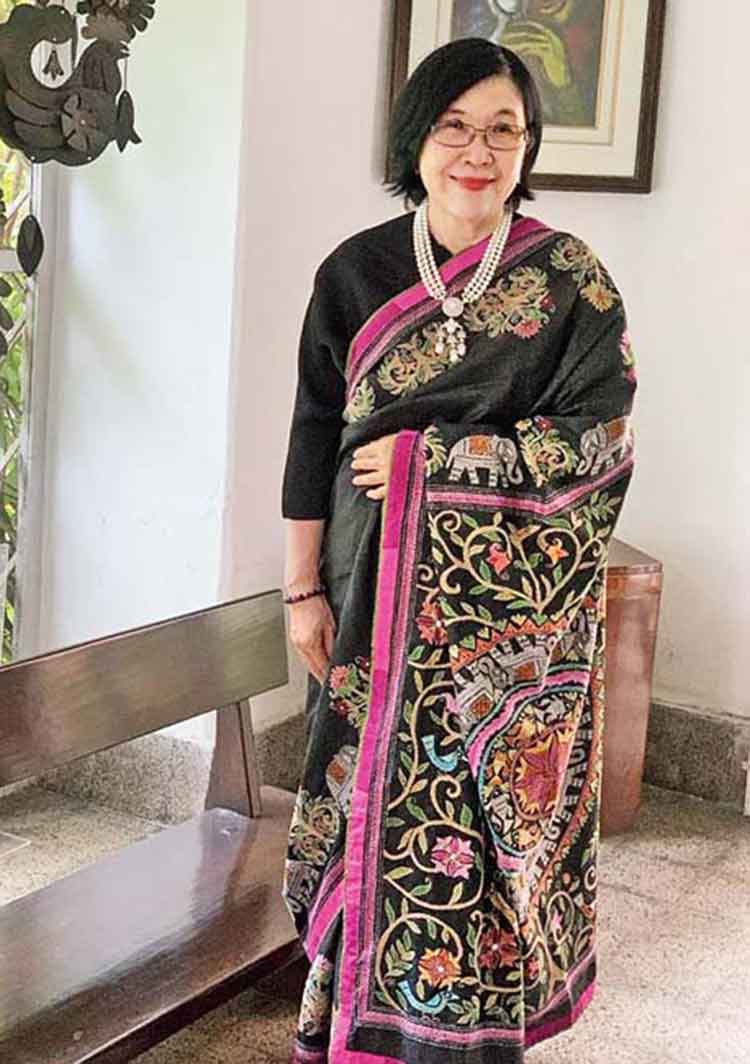 Consul General of Thailand Sweeya Santipitaks at her residence in a sari
Source by telegraph
Have you started accepting tourists in Thailand?
Thailand has gradually reopened its doors to foreign visitors, including Indians, depending on the risk factor, as the safety and health of local Thais and foreign visitors is our priority. As of September 21, we have resumed issuing all types of visas and entry certificates (COEs) for authorized non-Thai nationals traveling from India to Thailand except medical care. In addition, fully vaccinated Indians (with Covishield) can now travel to Thailand through the Phuket Sandbox program and the SamuiPlus program.
But there are two hurdles for the tourist – a ban on scheduled international commercial flights to Thailand and India has remained in place since the pandemic began in March 2020. Travel to Thailand from India has been limited to flights from repatriation, occasionally organized by Thai consulates in Chennai and Calcutta, and Air India Vande Bharat flights from Delhi to Bangkok. Traveling with semi-commercial airlines through Central Asian countries is still possible but the air fare is high. The second hurdle is that Thailand still imposes a two-week quarantine on anyone entering. Even I will have to follow the rule when I return.
How was your experience of repatriating Thai citizens?
We repatriated 938 Thai nationals last year. Most of our flights came from Gaya as this is where the Thai Buddhist monks and nuns are located. Our most difficult repatriation flight was the evacuation of Thai nationals on the Calcutta-Bangkok route from May 20 to 22 last year, which coincided with the arrival of Cyclone Amphan in Calcutta. We received DGCA approval on May 15 for the May 20 flight and the next day we learned that the cyclone would hit Calcutta the same day. There were 30 Thai students from Darjeeling. They needed health checks for the flight certificates. The youngest was nine years old. Their parents in Thailand were worried. We also had to bring in a university student from Shillong who was to go alone to Guwahati where three spa girls would join her. Together they were to come to Siliguri. They and the students had to take a bus which arrived in Calcutta at 2am! A Thai student was also from Chhattisgarh, two from Jharkhand and one from Santiniketan. It was during the strictest containment phase. Interstate travel was not permitted. We had to send all the details to the Ministry of Foreign Affairs.
So could they all take the flight?
The flight was unable to take off that day. Everyone therefore found themselves stranded in Calcutta and it was not yet known when the situation would improve. They checked in with us every hour. We had to organize student accommodation. There was no network in the days following the cyclone. I couldn't even get my car out. It was like a jungle out there in the streets outside my residence (with uprooted trees). We had to bring 213 packages of food to the airport for the passengers. The cooking took place at my house and my cook prepared the food before she took the flight herself. But no transport agency could guarantee that their buses would be able to leave the garage until midnight on May 21 and 22. My consulate staff had to stay until 2 a.m. at the consulate to coordinate. A Thai frozen fruit company, which sponsored the lunch boxes, helped us by sending their employees to prepay the bus company. Finally the buses managed to make the trip in the morning and the passengers left two days after the scheduled date. This repatriation was my most difficult mission.
How does it feel to have a cyclone with a Thai name that poses such a big challenge?
Is it? I did not notice! (Consul Nutt Svasti-Salee points out to him that amphan in Thai means amber) It is rare to have a Thai name for a cyclone. The names are usually Indonesian or Filipino. Now I know why I am here! It was fate! I had not planned to come to Calcutta.
How is it?
A colleague who was stationed here 15 years ago planned to come back here as Consul General. But at the last moment he was sent to Karachi and I was sent here. So I came here by chance!
You mentioned that your father Boonrawd Santipitaks had been consul general in Calcutta. That was when?
This was in 1983-84. I was a master's student at the south campus of Delhi University and came to visit him on my way home after my studies. I stayed the week. I visited the Marble Palace which I remember had pelicans in its private zoo. I also remember the bridge (Howrah).
What are your plans after you retire?
I wish to participate in the philanthropic public service We do Good Deeds with Our Heart, under the royal initiative of His Majesty King Rama X, to give back to Thai society, in particular on projects related to the cleaning of water channels in Bangkok, their drainage systems and the disposal of waste and garbage to beautify and preserve a good environment in our capital.
I also plan to learn new things like taking online classes on making Thai flowers from clay and creating video content.
Other than that, I will be happy to spend my time enjoying travel, taking care of my health, meeting up with friends and enjoying Thai food. After 30 years of being a public face as a diplomat, it's finally time for me, as we say in Thai, thod-hua-khon, that is, to take off the Khon mask. Of course, that mask (showing his surgical mask) would stay. (Laughs)
[ad_2]