[ad_1]
Our first full day on Navigator is a day at sea as we make our way to southern Mexico.
Of course, it's Christmas too, which means a ship-wide celebration throughout the day. Being on a cruise ship for Christmas doesn't mean you have to postpone your family's celebrations. Many families make the pajamas, take pictures and even decorate.
I started my morning by heading to the Windjammer for breakfast. There was a gingerbread village just as you enter.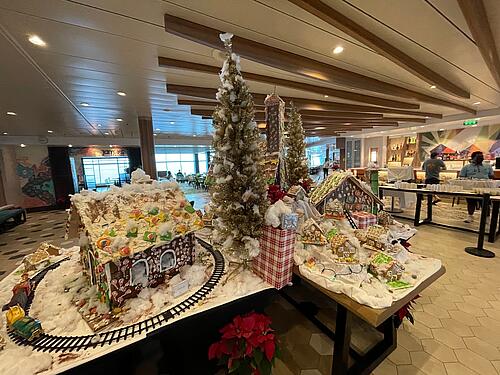 Behind the village is free eggnog and hot chocolate, conveniently located right next to the Windjammer bar. A little Kraken rum and eggnog does a lot of good.
All around the ship you will find crew members wearing different Christmas hats and clothes to join in the celebrations.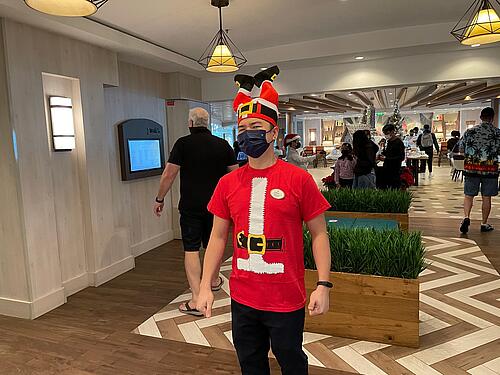 In case you were wondering, Royal Caribbean offers a Midnight Mass, as well as Christmas Mass.
While the sun was shining today, it was not hot outside. The high temperature was somewhere in the 60s, and with the ocean breeze it seemed crisp.
Among the many Christmas events was a "Holiday Gift Distribution", where Royal Caribbean provided a wrapped gift to all the children of Adventure Ocean.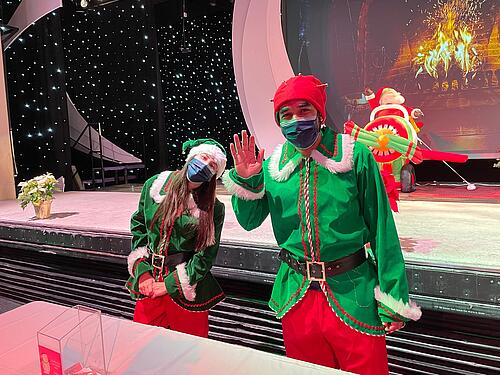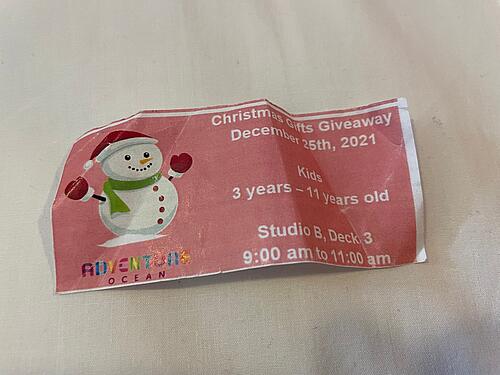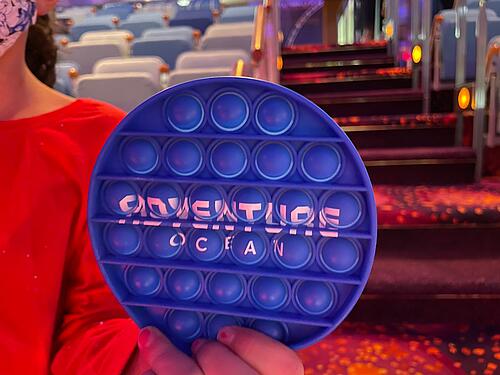 The giveaway was an Adventure Ocean-themed pop it, which is a stirred toy made of a silicone tray with pokable bubbles. School-aged kids love these things.
As the weather was not warm enough for the usual activities on the pool deck, we headed out to the mini golf course and then grabbed some towels to sit by the pool. The towels were for a blanket rather than soaking up water.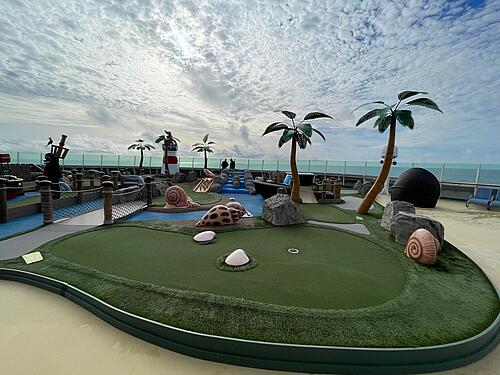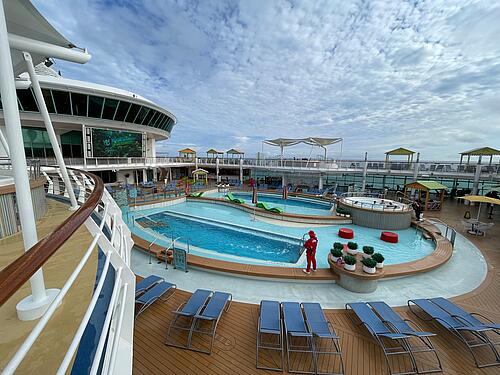 We tried to ice skate but the line was huge so we gave up the line. This is once I wish I had a Royal Genie again.
Royal Caribbean also hosted a Christmas Day brunch from 9:30 a.m. to 1 p.m. in the Main Dining Room.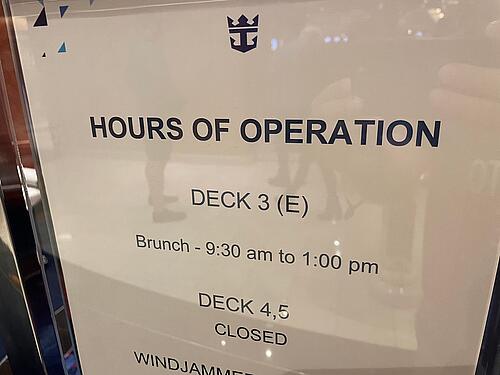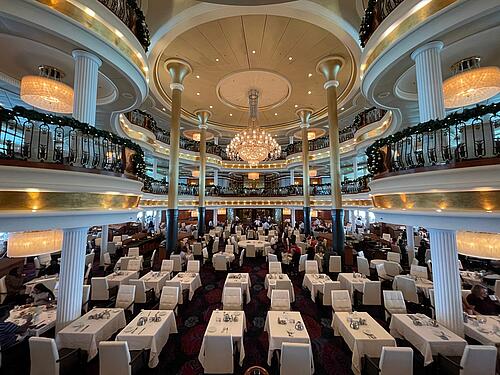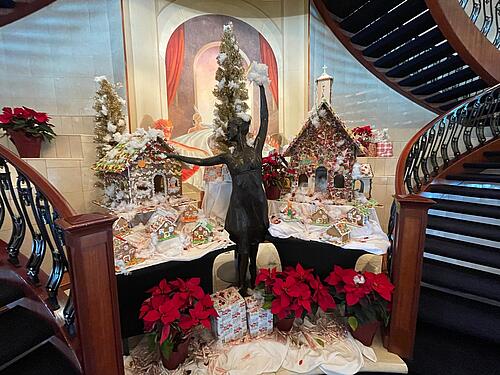 It's quite unusual to have the main dining room open for such a long time, and it was nice to be able to choose between breakfast, lunch, or both.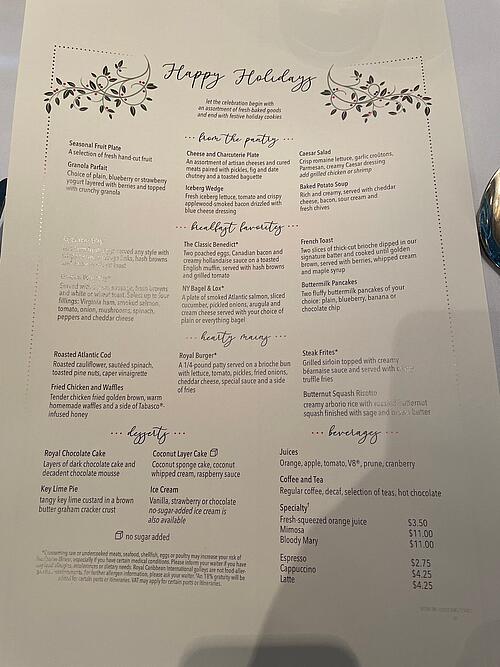 After lunch, I decided to go back to the room for a nap. Isn't that also a Christmas tradition?
Having been on the ship for 24 hours, I thought it would make sense to talk about the rules of the mask and how it works so far.
Many readers have been curious as to how the stricter rules on masks "feel" and what it looks like.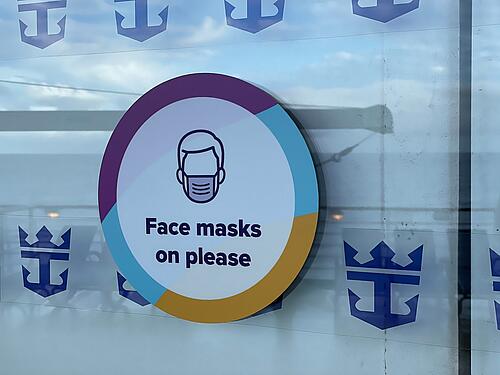 In general, the revised mask protocols mean that the change is wearing your mask in only vaccinated areas.
My experience has been that if you are sitting in a bar, restaurant or lounge, as long as there was food or drink in front of you, you were fine without a mask and you were not asked to put on the mask between bites or sips.
I have noticed that almost everyone follows the mask rules indoors. I can think of maybe someone who didn't have the mask inside when I saw them.
There are definitely a few masks worn by guests that I don't think I would qualify as masks that do anything useful, like face shields alone or the one person who had what looked like a mask inspired by a coffee filter. .
But I don't remember seeing so many masks worn on a ship since the early days of returning from the cruise.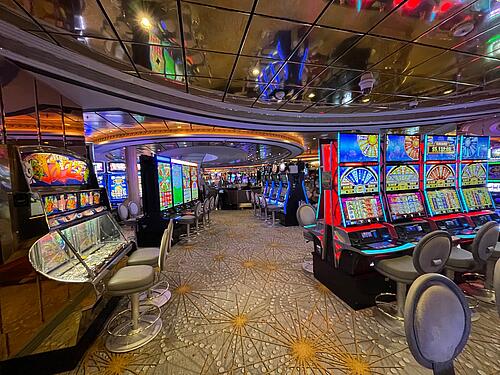 There were also a lot more people outside than I remember seeing wearing masks as well.
I don't think Royal Caribbean wants to be in a situation where there are crew members every 10 feet looking to correct the wearing of the mask, but I do know they want guests to follow the rules, and in overall, it feels like they did a good job of focusing on the customer experience, while balancing out the application of the mask.
The only rule no one seems to follow or apply is the elevator rule. Elevators are supposed to accommodate up to 5 people or your traveling party, but these things fill up on several occasions.
I'll be keeping an eye on the mask situation on board, but so far I'm very happy with how the rule has been implemented and how well received by guests.
Back to the fun of the day cruising!
Tonight's dinner took us to Izumi. We bought the 3 night meal package, and since Chops and Jamie's were in the dark from the holidays, Izumi made sense. Plus, we would probably eat Asian food at Christmas if we were at home!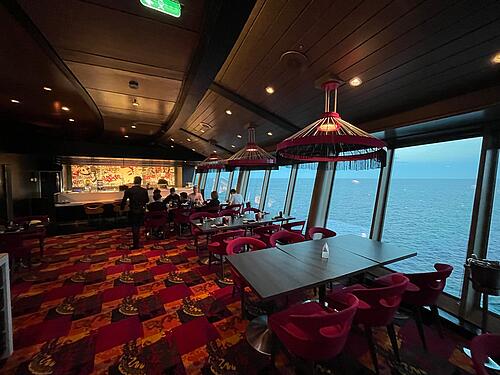 The only change I noticed is the lack of the hot rock option in the menu. During the stop, Royal Caribbean standardized Izumi's menu across the fleet, and the hot stones at least disappeared from Navigator.
Nonetheless, we found some great options and enjoyed the different sushi options we had.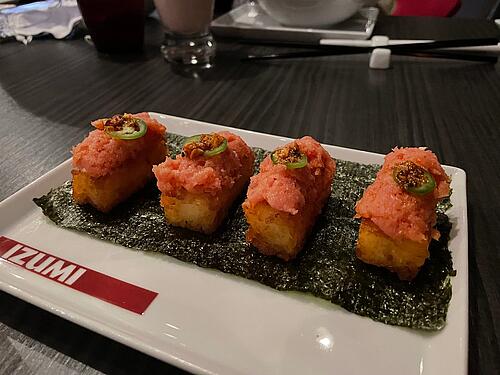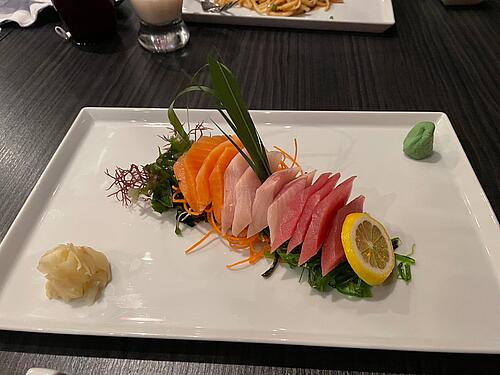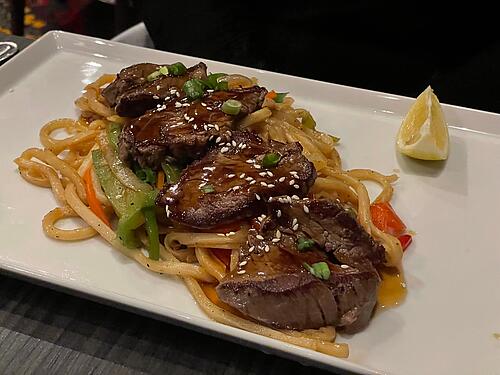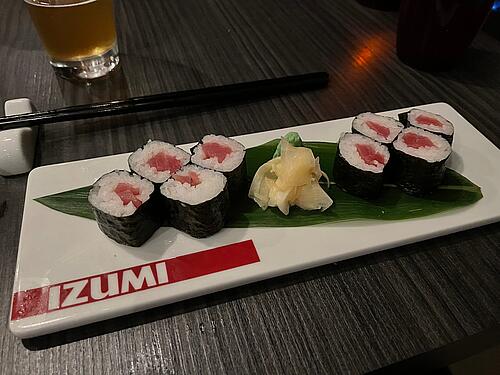 After dinner we took the kids to Adventure Ocean. We had a reservation for tonight. A tip is to ask every day if there are any reservations you can make. The staff member said tomorrow was quite open, but there was a few places for the next day. So we have booked that day and will be rolling the dice on space for tomorrow.
With the kids gone, my wife and I went to the casino to try our luck. The blackjack gods didn't smile at me, but at least they let me gamble for a while.
As a result of our "contribution" to Royal Caribbean's bottom line, we enjoyed drinks and music at the Schooner Bar and Pub.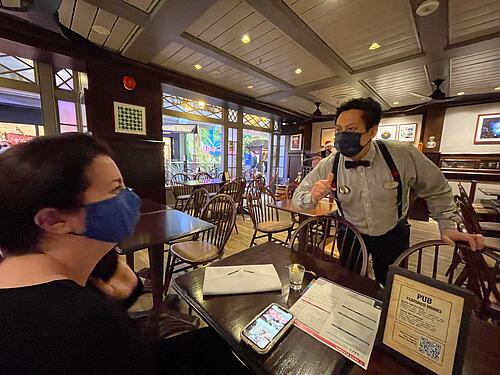 Tomorrow is our first port stop in Cabo San Lucas.
Stray observations
One of the weird foods you can eat on a Royal Caribbean cruise ship: three different varieties of gravlax.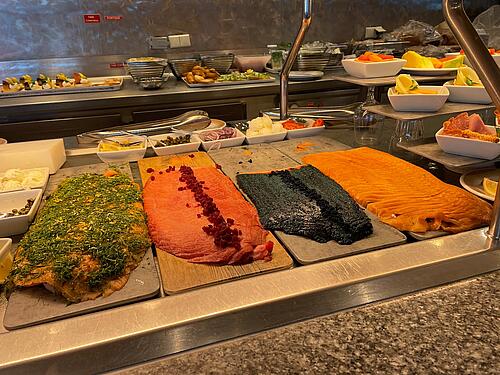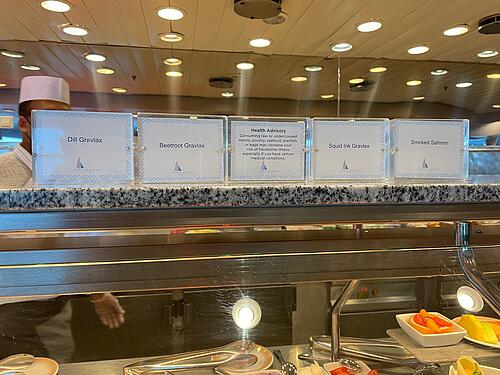 I did an internet test today and the speeds were nothing special, but for email, social media, and text messaging it's more than good enough. My attempts to watch DTT live to be able to attend the Christmas Story Marathon failed each time due to the low speeds and high lag.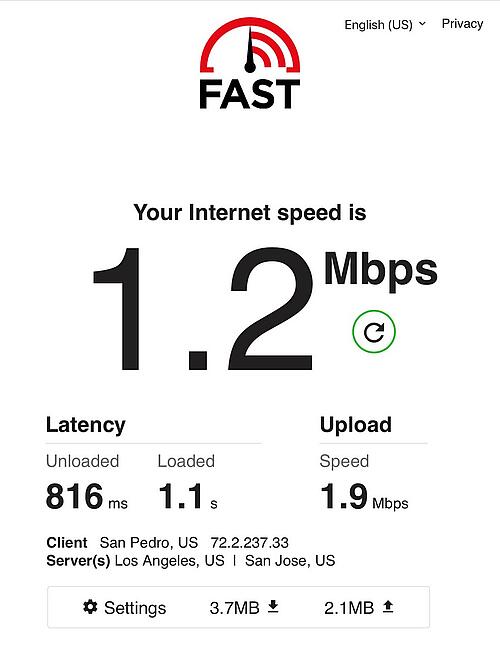 I think the casitas on Navigator are free and don't cost more.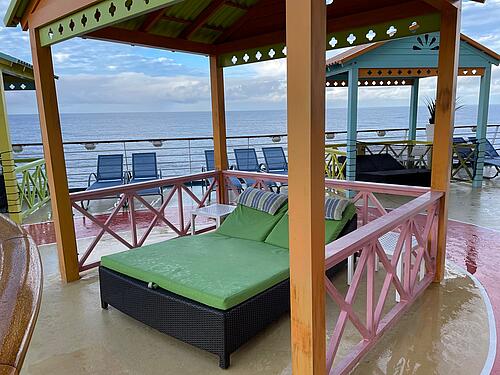 In his daily update, the captain said that during the last 7 night sailor's run they saw a pod of humpback whales so everyone should be looking for them when we arrive in Mexico tomorrow.
Sadly, I slept on my right shoulder last night and woke up with a tight muscle. Ibuprofen and lengthening help a lot. I hope it will get better soon.
I walked through the Diamond Lounge set up in the Cosmopolitan Club for their evening happy hour.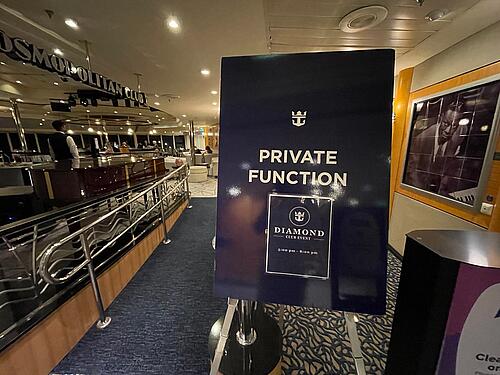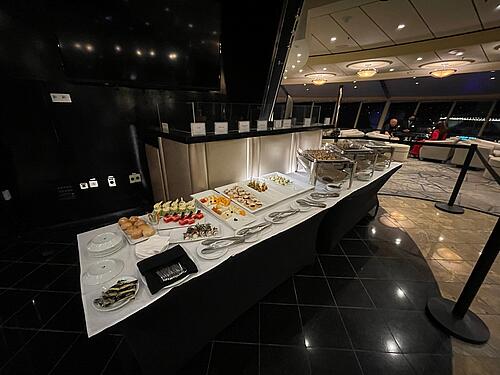 Printed cruise compasses are a rare breed on this cruise.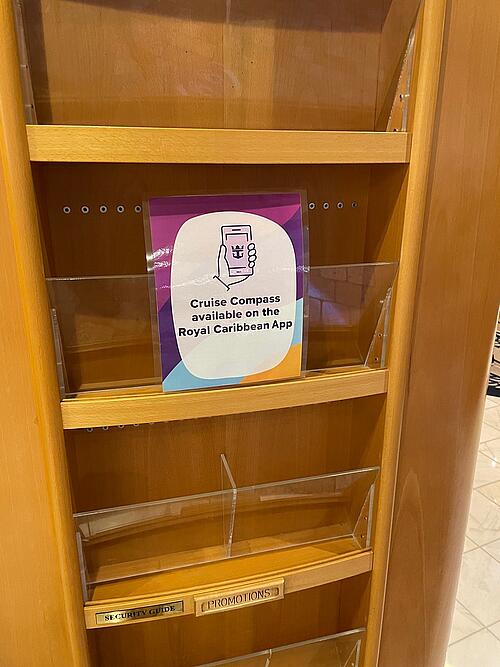 Here's a look at the main dining room's Christmas menu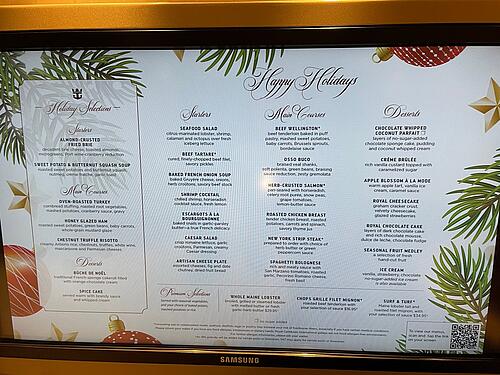 [ad_2]