I still vividly remember the first time my parents took me to a revolving restaurant thinking, "Huh! I've never been to a restaurant that keeps spinning like a merry-go-round!" unique with an epic view of the Fortunately, here in the capital, there are four revolving restaurants you can visit for a dining experience with a literal twist.
Revolving restaurant with a view of the Central TV Tower
The Central TV Tower is home to Beijing's tallest revolving restaurant, featuring a terrace 238 meters above the ground. Visitors can ride a high-speed elevator that will take them to the highest point in just 70 seconds.
At the restaurant, diners can enjoy a seafood feast while taking in a panoramic view of Xishan's beautiful scenery and the capital's alluring nightscapes. From salmon sashimi to scallops and even Boston lobster, the dining experience is top-notch.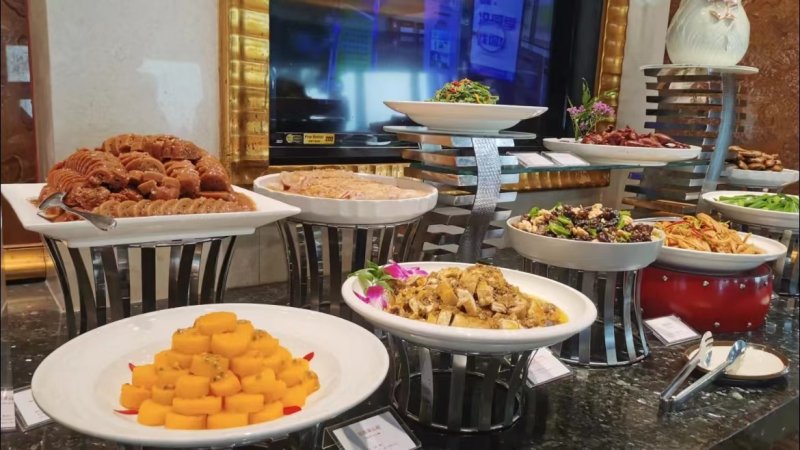 Revolving restaurant with a view of the Central TV Tower
No.11, W. 3rd Ring Road Middle, Haidian District
海淀区西三环中路11号
Zijinyunding revolving restaurant
Located high on the 26th floor of the Beijing Xiyuan Hotel, it is Beijing's oldest revolving restaurant. The revolving room completes a full 360-degree rotation every 2 hours, ensuring diners get an ever-changing perspective of the city. Not only that, the restaurant also offers a menu that offers fresh seafood, as well as more than 20 kinds of cold dishes, soups and snacks. Their crab is a menu favorite which features big, juicy chunks of meat accompanied by soy sauce and ginger.
Zijinyunding revolving restaurant
Xiyuan Hotel, No. 1, 26th Floor, Sanlihe Road, Haidian District
海淀区三里河路1号西苑饭店26层
Chang'an 28 Gan Shishuchen Steak Restaurant
Chang'an 28 Gan Shisucheng Steak Restaurant is a 360 degree revolving restaurant located inside Beijing International Hotel. 104 meters above the city, visitors will be able to soak up a dizzying dining experience as the restaurant makes a full rotation every 2 hours. On a clear day, visitors can see landmarks like Beijing Railway Station, CCTV Tower, and even Chaoyangmen SOHO from a distance. The restaurant is warm and welcoming and offers a variety of international and seasonal dishes. Definitely try their classic Caesar salad, beef spring rolls or creamy pumpkin soup.
Chang'an 28 Gan Shishuchen Steak Restaurant
Beijing International Hotel, No. 9, Jianguomen Inner Street F28, Dongcheng District
东城区建国门内大街9号北京国际饭店28层
Tianjijin Restaurant
Located on the 29th floor of the Beijing Kunlun Hotel, Tianzhijin Restaurant offers exquisite cuisine along with stunning city views. The restaurant is located near the Liangma River in the eastern part of Beijing. It also offers an extensive list of Thai, Cantonese, Japanese and French cuisines along with fine wines and even afternoon tea for diners.
As the restaurant rotates, guests will enjoy a magnificent view of the Liangma River, Zhongguozun and the surrounding embassy district, making it an unforgettable experience.
Tianjijin Restaurant
No.2, Xinyuan South Road Hotel Kunlun Floor 29, Chaoyang District
朝阳区新源南路2号昆仑饭店29层
READ: Joe's Pizza is now pre-opening! Here's a first look
Diaping images