Suburbs get another brewery like Dayton's Warped Wing Brewing Company sets an opening date for their previously announced Mason location.
The new "Brewpub & Smokery" is set to open Feb. 4, according to a statement. The 13,000 squaresfoot location – in the old Brazenhead and Basil's on Market – will feature a large dining room with many popular Warped Wing beers, like Trotwood Lager, and a new Mason-based collaboration Sonder Brewery, Ryesing tides.
The food menu will include smoked wings as well as loads of sandwiches, tacos, platters and sharing options that include house-smoked meats.
"It was definitely a unique and rewarding experience to merge what was once an old world Irish pub and fine dining restaurant into a brasserie and dining room, but our contractors and design team knocked it out of the park" , Nick Bowman, vice president of sales and marketing at Warped Wing, said in a statement. "I'm proud of what we've put in place and excited to share it with the Mason community."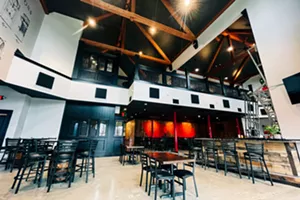 This new location will also be available as an event space and will house a small "pilot brewing system". In the spring, guests can enjoy an outdoor beer garden.
If you're not a beer lover, don't worry, Warped Wing will offer you plenty of other options like hard cider, wine, and specialty cocktails. And if you have kids or are taking Dry January next month, they serve mocktails and homemade sodas.
Find the location of Warped Wing's Mason at 5650 Tylersville Road. Discover the selection of beers and their menu on warpedwing.com.
Stay connected with CityBeat. Subscribe to our newsletters and follow us on Facebook, instagram, Twitter, Google News, Apple News and Reddit.
Send CityBeat a news or story tip or submit calendar event.